Frag Grenades
A powerful  Frag Grenade in your pocket, among other Ammunition, can be a big surprise for any enemy in the Evolution: Battle for Utopia game.
Frag Grenades, Available in the Game
Frag Grenades Summary Table
Name
Unlocked By
Research Cost (Time)
Cost Reduction Requirement
Reduced Research Cost (Time)
Construction Cost (Time)
Damage
G-1 Frag
Iron Mine, 1st hack at the right side (vault in rock)
100, 5, 50 (00:04:00)
Grenades Caught in Battle (15)
80, 4, 40 (00:03:12)
35, 70 (00:00:12)
Counts base on Player's Level
G-2 Frag
MOROSE Crash Site, hack at the left side of crashed ship
200, 20, 500 (00:40:00)
G-1 Frag Grenades Used (10)
160, 16, 400 (00:32:00)
75, 150 (00:00:36)
67% stronger than G-1 Frag
G-3 Frag
Black Legion Base, 2nd hack (building on right)
500, 900, 30 (01:00:00)
G-2 Frag Grenades Used (16)
400, 720, 24 (00:48:00)
150, 45, 300 (00:01:12)
50% stronger than G-2 Frag
G-4 Frag
Available only via Smuggler's Offers ("Nuclear Mole" game)
– n/a –
– n/a –
– n/a –
Can't produce by yourself
33% stronger than G-3 Frag

G-1 Frag Kit
Psionic Base, hack at the end behind 3 spiders
100 (00:15:00)
G-1 Frag Grenades Used (10)
80 (00:12:00)
147, 294 (00:00:50)
Refer to G-1 Frag Grenade
G-2 Frag Kit
MOROSE Crash Site, together with G-2 Frag Grenade
300 (00:20:00)
G-2 Frag Grenades Used (10)
240 (00:16:00)
315, 630 (00:02:31)
Refer to G-2 Frag Grenade
G-3 Frag Kit
Black Legion Base, building in the top left corner
750 (01:00:00)
G-3 Frag Grenades Used (8)
600 (00:48:00)
630, 189
1260
(00:05:00)
Refer to G-3 Frag Grenade
Tips

– Frag Damage. Good as for unarmored targets (100% damage) and as for armored (100%). This type of damage is most common among grenades (4 of 9).
Each Grenade Kit, contains of 6 pieces (but each Medpack Kit – 8).
Most players use G-2 Frag Grenades to pass through most enemies (instead of more expansive G-3).
Save your

 at least for  G-2 Frag Kit, rather more useful then G-1 Kit.
For the maximum damage throw grenades to the enemy in the center. Due to explosion damage will caused to all (three) enemies on the battle field.
All grenade types share a cool-down timer, which prevents the use of another grenade for 20 seconds after one has been used.
To keep some valuable G-3, G-4 frag grenades you have during easy combats, you can tap on them in your profile screen and don't take them to those battles.
Do You Want to Take G-3 Frag Grenades to Next Battle?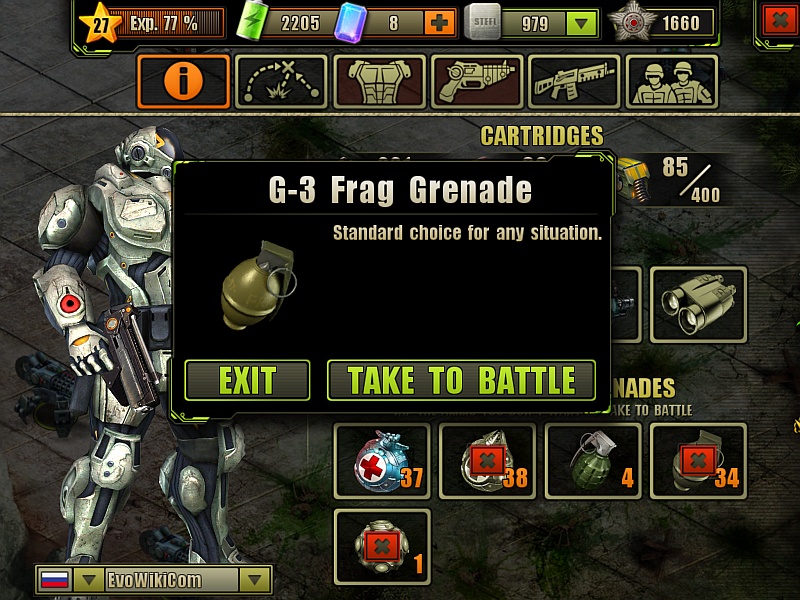 If you found an error, highlight it and press Shift + Enter or click here to inform us.