Bloody Slider Walkthrough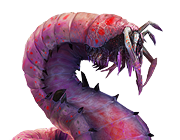 Bloody Slider Walkthrough
The Bloody Slider walktrough is one of the many Bosses Walktrough in the Evolution: Battle for Utopia game.
NEUTRALIZED!
Just imagine a carnivorous worm as large as a bus! I`ve just finished one and continue exploring the distant planet!
General information about Bloody Slider boss is Here.
Bloody Slider Walkthrough Video
If you found an error, highlight it and press Shift + Enter or click here to inform us.