Cultist of Xi Walkthrough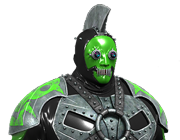 Cultist of Xi Walkthrough
The Cultist of Xiwalktrough is one of the many Bosses Walktrough in the Evolution: Battle for Utopia game.
NEUTRALIZED!
The mysterious Xi-sect got in my way! There was nothing to do but to show the Cultists that they should fear me no less than their god!
General information about Cultist of Xi boss is Here.
Cultist of Xi Walkthrough Video
If you found an error, highlight it and press Shift + Enter or click here to inform us.