Executioner Walkthrough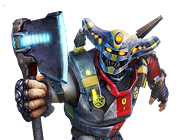 Executioner Walkthrough
The Executioner walktrough is one of the many Bosses Walktrough in the Evolution: Battle for Utopia game. This massively armored foe fits his name very well.
NEUTRALIZED!
The Energetic Axe hasn`t saved the Executioner – my gun is tougher!
General information about Executioner boss is Here.
Tactics
He will begin his combat by taunting, which is a good time to catch him with a grenade and a high powered assault rifle or machine gun. Once he is done taunting, retreat behind your shield and reload.
He will approach the halfway point and taunt again. This is a good point to hit him with a statis grenade or stasis shot from your assault rifle. Blast away at him again, and if he doesn't die, it's crunch time. Another grenade or psi-strike(At least level 2 is suggested) are your only saving graces here.
He will hit you hard, and cut you down quickly if he is allowed to advance beyond his second taunting phase.
The Executioner Walkthrough Video
The Executioner (Side Mission – Terror Level 4)
Roxy Partner, Storm AR, Adam Cruise's Magnum and Hornet Armor (no Original Sound)

The Executioner (Side Mission – Terror Level 4)
Terminator-Kingpin Partner, Alligator AR, UFO Pistol and Spartan Armor (Russian Version)

If you found an error, highlight it and press Shift + Enter or click here to inform us.