Spiders' Queen Walkthrough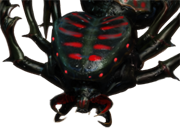 Spiders' Queen Walkthrough
The Spiders' Queen walktrough is one of the many Bosses Walktrough in the Evolution: Battle for Utopia game.
NEUTRALIZED!
I`m not long on this planet, but I`ve already killed a pack of monsters and their leader – the Giant Spider!
General information about Spiders' Queen boss is Here.
Behavior: Spitting from a far distance. Can approach to a middle range. When losing about 50-70% of health goes to melee. At high player's levels after the death of the Spiders' Queen appear 3 mini spiders' queens
The Spiders' Queen at the Home Base Location Walkthrough Video
The Spiders' Queen at the Coast Location Walkthrough Video
If you found an error, highlight it and press Shift + Enter or click here to inform us.