Z.E.V.S. Operator Walkthrough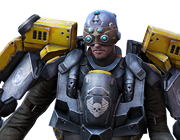 Z.E.V.S. Operator Walkthrough
The Z.E.V.S. Operator walktrough is one of the many Bosses Walktrough in the Evolution: Battle for Utopia game.
NEUTRALIZED!
My enemies from the Black Legion were constructing a giant mechanoid called "Z.E.V.S.", but their work wasn`t destined to be completed – I defeated their head engineer and stopped the construction!
General information about Z.E.V.S. Operator boss is Here.
Behavior
Immediately begins to taunting, then produces Boombirds and starts throwing grenades.
Z.E.V.S. Operator Walkthrough Video
If you found an error, highlight it and press Shift + Enter or click here to inform us.