Outpost Story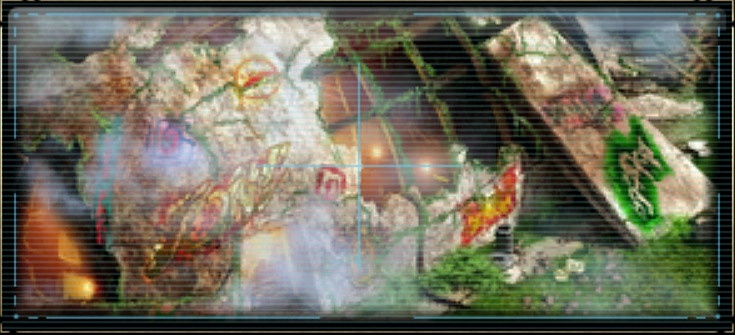 Outpost Story
The story of Outpost location is part of a larger Story Line in the Evolution: Battle for Utopia game.
General information about the Outpost location is Here, and walkthrough guide is Here.
Margaret
That's the place. They should be waiting for Jaafar's ransom around here somewhere.
Commander
OK. Let's explore the surrounding area!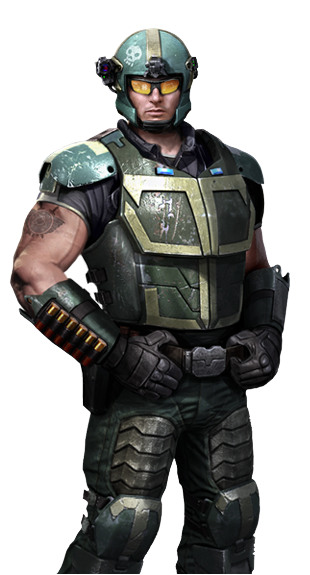 Commander
Where else would they hide the abductee, if not behind this fence! I hope we are not too late and they did not turn the prisoner into a corpse.
Schroeder
Be careful, commander. That turret at the gate may prove unpleasant!
Commander
No problem, we'll give that doggie a bone to chew on. A pair of grenades will keep it from barking!
Damon
Huh, who are you? Have you brought the ransom for a certain someone? Toss it over here and say the name, and I will decide for myself.
Commander
We have no ransom, we are looking for Jaafar.
Damon
You are looking for Jaafar? But have no ransom? How can this be? They crawl up to me on their hands and knees, place the ransom neatly at my feet, and quietly hold their dusty breath as they wait. They pray that I do not change my mind!
But you show up for a person without payment? No, that's not how it works… I am preparing to return him for a good price!
Commander
Letting Jaafar go will be a good deed. For others and for yourself.
Damon
Good will will not get you very far in these sands. You need Jaafar – you need to pay. What do you need this peddler for anyways, eh? I can see that you are not from the merchant guild…
Commander
Yes, we are not merchants, and there will be no trade here! It does not concern you why we need him. Let him go willingly and, perhaps, you will be left alive!
Damon
Have you gone mad, worm?! Has the sun fried your brain?! No one talks to me that way! You start barking at me – and you'll end up whimpering in hell!
Now I will hang you from a pillar, and sell your women to the highest bidder. Understand now?
Commander
I understand that you don't understand. Very well then, I'll try to explain it another way!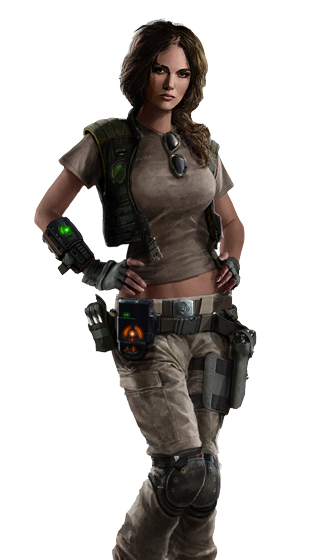 Margaret
Whoa! What sort of monster is this?
Elizabeth
It looks like one of those machines they call Dominators.
Margaret
What a behemoth! Could this desert wanderers really defeat it?
Anderson
I doubt it. Such a powerful construct could only be taken out of commission by whoever destroyed our ship.
Commander
The damage is not visible. I am not entirely certain that someone actually took it down.
Elizabeth
If I could get closer, I could examine it in more detail…
Margaret
A strange structure… Some sort of local idol?
More likely an altar… My god! This is where they hang people!
Schroeder
Indeed. An altar of greed and cruelty. This is the gallows on which the kidnappers hang the abductees for whom they do not receive a ransom.
Anderson
Have you noticed how high the pillar is? The victims are visible from afar, even the fence doesn't block the view. The bandits want everyone to know that you won't get away with a simple warning for a late payment.
Commander
I see these guys are experts in their sordid business. It's time to bring this freaking hellhole to the ground!
Schroeder
It seems we have found Jaafar.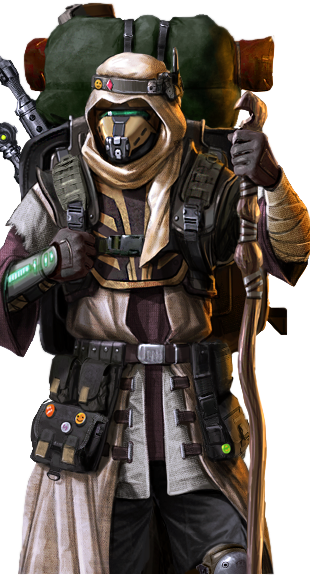 Jaafar
Do I understand correctly that I owe you my life, strangers?
Commander
Well, yes, we found out by chance that local bandits were profiting by abducting people. We decided to find them and set them straight.
Jaafar
You hardly ever encounter such generosity on Utopia, I swear by the midday heat! But it seems to me that you are not from these regions. Have I guessed right, kind soul?
Commander
Yes, we arrived from Earth. But our ship was shot down by an unknown weapon. Now we must find whoever is responsible, so that the next expeditions do not wind up in the same trap.
Jaafar
This will not be easy, earthling. They don't like strangers here. Life is not valued on Utopia, and here they know thousands of ways to take it away…
Commander
And that is exactly why we are so glad to have allies. And your help would be greatly appreciated!
Jaafar
I will not argue, I am in your debt now. Helping you is my sacred duty! But I belong to an organization that is not so simple to leave.
Have you heard of the Guild of itinerant merchants, who trade different wares for biofuel? I am one of these merchants.
And in order to go with you, I must return fuel for the wares I have taken. But these bandits took everything I had!
If you agree to settle my debt with the guild, then I will happily join you. And I promise to give you an excellent discount with every itinerant merchant who crosses your path!
Dialog with Jaafar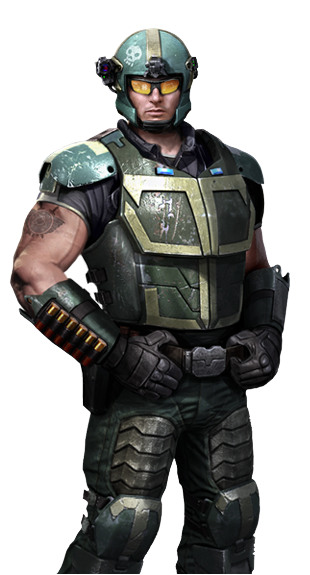 Commander
Tell me of your kidnapping
Jaafar
Everyone knows that itinerant merchants are wealthy, and do not abandon their comrades when they are in trouble. The bandits thought that this would be a good deal for them…
Commander
Were they right?
Jaafar
In terms of riches – yes. Our guild's reservoirs are full of biofuel. There are few on this planet who can claim such large reserves! But the guild never negotiates with kidnappers.
Otherwise, the next day all of Utopia would be scrambling to capture our merchants. Our trading would quickly come to an end.
And so, if it weren't for you, I would be hanging from those gallows at this very moment, and the vultures would be pecking at my eyes…
Commander
Who downed my ship?
Jaafar
You ask me if I know who shot down your ship?
I do not. I have never seen anyone capable of such a thing. These local bandits would have better luck trying to bite through granite than take down a spaceship with their weaponry.
Commander
What if they were not local?
Jaafar
We frequent many different locales, earthling, and trade even with the Black Legion. We know all the secret paths and hideouts of those who do not want to be found.
Only the east of Utopia is closed to us. Perhaps those you seek are hiding there?
Commander
Why haven't you traveled to the east?
Jaafar
According to our sources, there is no one to trade with there. Only the Black Legion knows what happens in those lands.
Commander
Why do the merchants need biofuel?
Jaafar
Itinerant merchants only sell their goods for biofuel. This is the prime directive of our guild!
Commander
But why does the guild need so much fuel?
Jaafar
You want to know too much, earthling. Please do not be offended if I remain silent. Right now this knowledge would only harm you, believe me.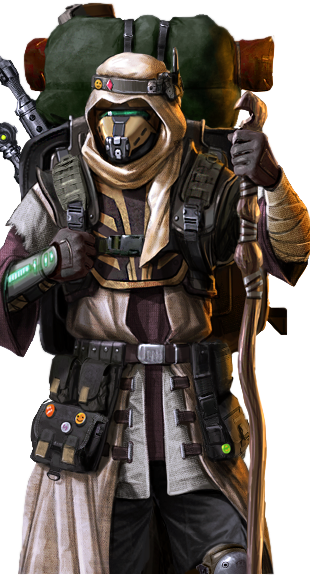 If you found an error, highlight it and press Shift + Enter or click here to inform us.