Ringleader Walkthrough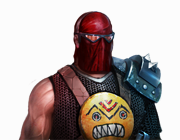 Ringleader Walkthrough
The Ringleader walktrough is one of the many Bosses Walktrough in the Evolution: Battle for Utopia game.
NEUTRALIZED!
This planet is controlled by armed thugs, but my expedition will restore the order!
General information about Ringleader boss is Here.
Behavior: shoots two times with a short pause, then reloading standing. When losing about 50-70% of life runs to a middle-distance.
The Ringleader Walkthrough Video
If you found an error, highlight it and press Shift + Enter or click here to inform us.