Viper Walkthrough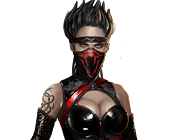 Viper Walkthrough
The Viper walktrough is one of the many Bosses Walktrough in the Evolution: Battle for Utopia game.
NEUTRALIZED!
The Vipers are the elite guard of a villain called "Kingpin". I`ve managed to finish their leader!
General information about the Viper boss is Here.
Behavior
Shooting the first clip, taunting, shoot second, hiding behind the shield.
When losing about 70% of health, throws a grenade and runs into melee.
Viper Walkthrough Video
If you found an error, highlight it and press Shift + Enter or click here to inform us.