Stasis Shield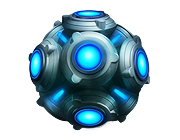 Stasis Shield
The Stasis Shield is one of your combat features among other Tactical Technologies in the Evolution: Battle for Utopia game.
Description
Automatically places enemies on a brief stasis when your health gets below 20%. During this stasis enemies move slower.
Stasis Shield should not be confused with the stasis triggered when enemies are about to approach you. That approach stasis is available from the start of the game, and always lasts 4 seconds.
Stasis Shield Upgrades Summary Table
Level
Unlocked By
Research Cost (Time)
Cost Reduction Requirement
Reduced Research Cost (Time)
Stasis Shield Time
1
Defeat a Dominator
250, 20, 500 (00:30:00)
Defeat Dominator (3)
200, 16, 400 (00:24:00)
About 8 Seconds

2
Defeat a Dominator
450, 20, 900 (01:30:00)
Defeat Dominator (5)
360, 16, 720 (01:12:00)
30% Increase In Duration
If you found an error, highlight it and press Shift + Enter or click here to inform us.