Maximus Turret Boss Walkthrough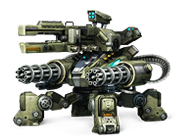 Maximus Turret Walkthrough
The Maximus Turret walktrough is one of the many Bosses Walktrough in the Evolution: Battle for Utopia game.
NEUTRALIZED!
I`m even tougher than I thought I was! I`ve just turned the Maximus steel giant into a pile of burnt scrap metal!
General information about Maximus Turret boss is Here.
Maximus Turret Walkthrough Video
Maximus Turret Walkthrough Video 2
Gear: Roxy partner, Prometheus armor, UFO Pistol, Megathrone 2 AR, G2 frags grenades, U-3 and U-2 medpacks
If you found an error, highlight it and press Shift + Enter or click here to inform us.